UB takes precautions in asbestos removal in Capen Hall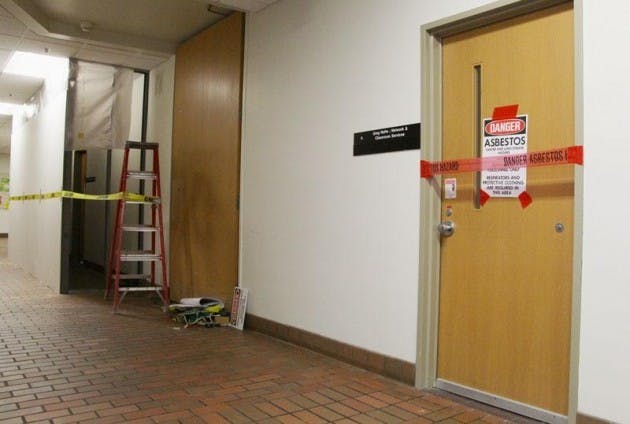 ---
UB has placed signs warning students of the presence of asbestos in a few rooms on the first floor of Capen Hall that are being renovated in conjunction with New York State health codes.
Some asbestos is contained in floor tile mastic and joint compound in the rooms and its removal was necessary in renovating the area.
In an email, Joe Raab, director of environment, health and safety (EH&S) at UB, said the abatement is a "planned project and there has been no emergency release of asbestos in the building." The removal will take about eight days to complete.
Raab said precautions are being implemented to prevent the spread of asbestos. New York State requires its removal in a containment built of plastic sheeting under negative air pressure.
A third-party asbestos consulting firm is also monitoring the project.
"This firm provides on-site representatives who observe the work practices, regularly inspect the containment, and collect the air samples," Raab said in an email. "In addition, a UB project manager and EH&S oversee the entire process, with safety of the building occupants as the primary objective."
Raab said air samples will be taken during and after the clean up to ensure the asbestos was contained and properly removed.
Subpart 56-1.8 of the New York State Department of Labor Safety and Health Code states: "Every contractor engaged in the abatement portion of a project shall post or otherwise provide for a written notification to residential and business occupants of a building 10 days prior to the commencement of work on any asbestos project in the building.
"With regard to projects being conducted in school buildings, the faculty, staff and students attending such school shall be considered to be business occupants and shall receive notice as required in this Part (rule)."
If students feel they have been in contact with the rooms or any hazardous material, Raab said to contact EH&S.
email: news@ubspectrum.com
Comments