UB HEALS brings medical resources to Buffalo's homeless population
Student-run organization looks to make local healthcare accessible through street work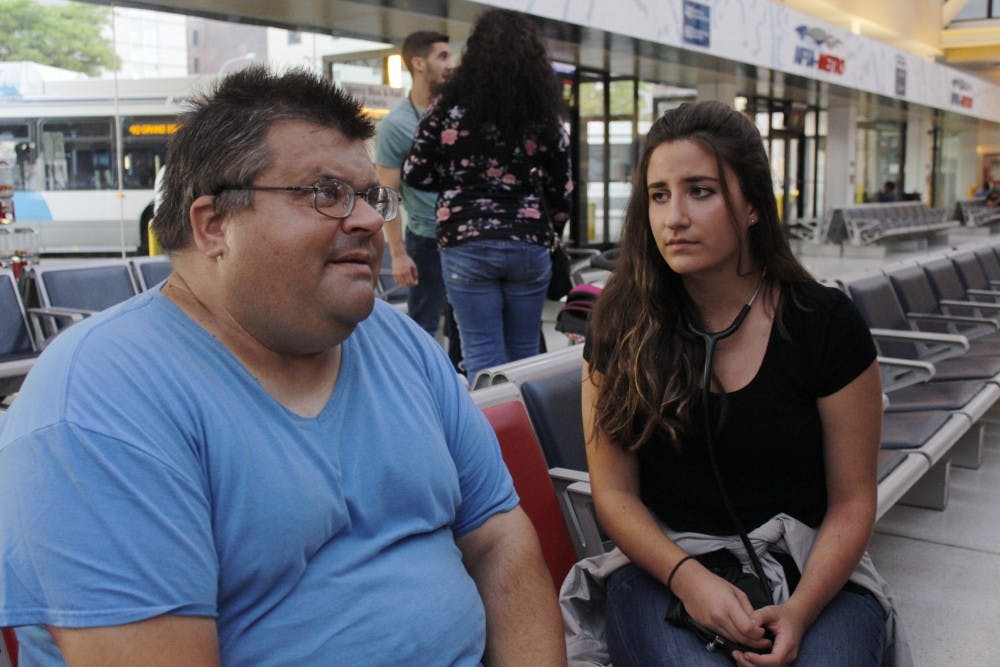 ---
For the past two-and-a-half years, a group of medical students have aided thousands of Buffalo's homeless community.
UB HEALS, founded by fourth year medical student Moudi Hubeishy in March 2016, is an entirely student-run organization dedicated to serve the needs of homeless people in Buffalo. The non-profit organization is composed of 12 team members from the UB community, along with community medical volunteers.
UB HEALS team members, student volunteers, UB and Buffalo community partners make rounds in the city every week on Tuesday and Thursday nights. Through its service, the group provides patients with everything from health referrals and assessments, to clothing and follow-up care.
Community partners, such as UB's emergency medicine department, Spectrum Health & Human Services and the Neighborhood Health Center, all play a part in providing medical services for the organization.
Jake Blum, a second year medical student, is UB HEALS' program manager. Blum said medical students are eager to care for patients and community partners act as their "shepherds."
"These are professionals who work in homeless care where folks may be hanging out for the evening, so we'll travel to them and meet people where they are at," Blum said.
"Whether that's on the street or in a shelter, that's where we'll go. And that's one of the nice things about being a student-run organization, we're very flexible, we'll show up ready to do just about anything, and we'll go to places where our community partners think people can use the most hope."
On a usual night, UB HEALS begins its service at downtown's Buffalo Metropolitan Transportation Center. From there, the group assesses the needs of people within the center. If it's above 32 degrees outside, the group hits the streets and approaches individuals throughout the city. If it's below 32 degrees outside, they'll take their services to shelters.
Mark Lawler, a second year medical student, is UB HEALS' research and data coordinator. Lawler said the team has two projects underway to see if its goals are being met.
"The first goal is to build trust in the homeless population with the healthcare system then actually reconnect, and assess whether we're getting people into the proper healthcare services, and improving their health as a whole," Lawler said.
"We're also assessing a way to improve medical education and the understanding of homeless among the healthcare profession. So, in addition to serving this population, we want to educate our classmates, community physicians and others so the next generation of healthcare professionals is one that truly understands the unique situations of the homeless [community]."
Lawler said UB HEALS has helped him understand the advantages in using community resources.
"Those resources can help your patient get the best outcome," Lawler said. "You need to understand what's going on in your community, what is impacting all the things outside the so-called 'social determinants of health' and understand not only how this affects health but how you can work to improve them on a day-to-day basis."
Lisa Samuels, a second year medical student, is UB HEALS' public relations and fundraising manager. Samuels said the organization helps bring team members back to the "human-side of medicine" through their interactions with the community.
"In the medical field, and especially in our training, the knowledge is drilled into you, so I think UB HEALS does a beautiful job to make you think that you're treating a human," Samuels said. "With the homeless population, putting their humanity first in their identity is something I'll take with me for the rest of my career."
Samuels and Blum agree that one of the results of their work is its ability to alter their understanding of the homeless community.
"I'm from Amherst, and having moved to the downtown area and lived there a few years before I joined UB HEALS, it's definitely surprising to see behind where I was eating my dinner, was a place for people who don't have a place to stay," Blum said.
"You can learn a lot about this community. It's tough to find out, or be aware of what these individuals have to face, but it definitely makes you feel like more of a Buffalonian when you really know what's happening in your community."
As UB HEALS nears its third year, the organization is launching a crowdfunding initiative on Sept. 13. The organization is looking to raise $10,000 for support toward its programs and to continue its mission with future generations of students at UB.
Benjamin Blanchet is the senior features editor and can be reached at benjamin.blanchet@ubspectrum.comand @BenjaminUBSpecon Twitter.
Comments