Around town: events for $6 or less
Buffalo's events for Labor Day Weekend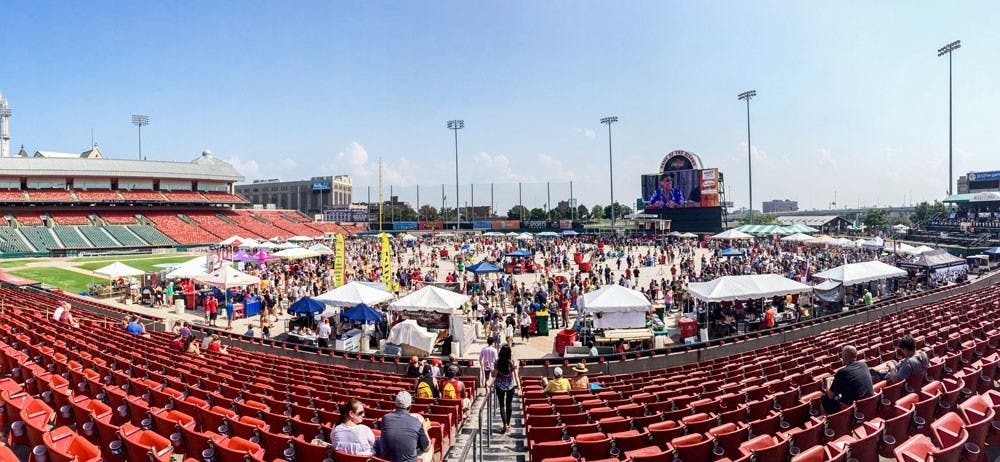 ---
The back to school prep is here: buying books, moving in and the first week of classes. But the city of Buffalo isn't quite done with summer yet and events around town and on campus are a good way to escape the school preparations, even if it's only for a little bit.
Buffalo Wing Festival
Saturday from noon to 9 p.m. and Sunday from noon to 7 p.m. – Coca-Cola Field
This year marks the 15th annual Buffalo Chicken Wing Festival and it falls on the first weekend of classes.
For those new to Buffalo, it's a great way to get to know the city through its most iconic food.
Admission is $5, along with the cost of food tickets and drinks. Those not interested in chicken wings can enjoy music performances, sauce concocting competitions and chicken wing eating contests.
Adios El Summer-o
Sunday 1 p.m. to 10 p.m. – Deep South Taco
Summer is coming to a close, but Deep South Taco does not want to say goodbye quite yet.
The taquería is celebrating the last days of summer with a parking lot full of sand they call, "their very own downtown beach."
There are trucks dumping sand into the parking lot adjacent to the restaurant along with a mechanical shark, volleyball court, kiddie pools and sprinklers, as well as food from the restaurant, frozen margaritas and a beer truck.
There will also be music performances from a variety of artists. The cost is $5 at the door.
German American Festival
Saturday from noon to 11 p.m. and Sunday from noon to 10 p.m. – Cheektowaga Town Park
It's not quite Oktoberfest, but to get a taste of it early, Cheektowaga Town Park is holding a German American Festival this weekend.
The festival will have authentic German food, a wine garden, vendors, music and of course, beer. Imported German beer will be on tap through the whole festival.
Tickets are $4 for pre-sales and $6 at the gate.
Saturday Artisan Market
Saturday 10 a.m. to 5 p.m. – Buffalo Canalside
Art vendors from the Western New York area are flocking to Canalside Saturday morning for the artisanal market.
The event will feature a wide variety of handcrafted items to fit an array of artistic needs.
It will also feature music from various artists and the Louisiana Cookery food truck will be serving lunch for the event.
This is a free event to walk and see the artwork from around the area. Items will also be for sale for those that want to support local artists.
Silo City Tapped
Saturday 3 p.m. to 11 p.m. – Silo City
Silo City, an iconic viewing piece to Buffalo's waterfront, is holding a day of music, food and drink this Saturday.
Silo City, an area filled with old grain elevators, is now a historic piece to the city of Buffalo that offers the venue for this event.
The event will feature music from Heard of Buffalo, Funktional Flowand Black Rock Zydeco.
Music isn't the only reason to attend the event. Silo City will also feature food trucks from the local area, as well as beer and wine from local breweries and wineries.
The event costs $5 at the gate and once inside, the event will offer free tours to learn about Silo City and its impact in Buffalo's history.
UB Late Night BBQ
Saturday 10 p.m. to 1 a.m. – Ellicott Complex
It can be tricky to get off campus sometimes, especially for new students. Late Night UB is offering events throughout the semester for those looking to hangout on campus.
This Saturday, Late Night UB is holding a "Big Blue BBQ" in the Ellicott atrium field.
This will also be a place to meet new students and the Late Night UB staff to learn about upcoming events held here on campus.
Evan Grisley is the features desk editor and can be reached at evan.grisley@ubspectrum.com. Follow him on Twitter at @evangrisley
Comments