UB student and cancer survivor to run across United States
Kelsey Barbour to run marathon to raise money for cancer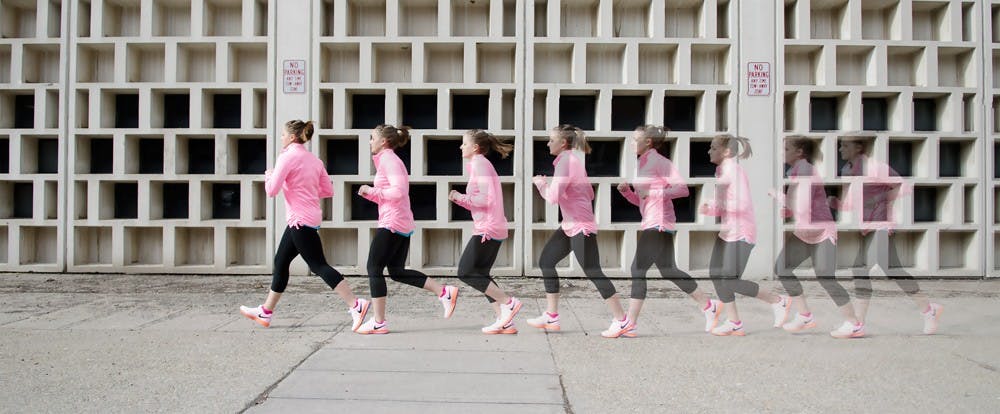 ---
Kelsey Barbour never planned to take up running.
Even her mother, Cheryl, never thought she could be a runner. Barbour had always been a swimmer. But a thyroid cancer diagnosis in the summer of 2011 changed that.
While stricken with cancer, Barbour wasn't physically able to get back to the one place she missed the most – the swimming pool. Barbour, a member of the women's swimming team from 2010-14 and is getting a dual masters degree in public health and business administration, was on the mend while dealing with her diagnosis in between her freshman and sophomore year.
She discovered running as a mechanism to cope with her cancer during the time she wasn't allowed in the pool. Barbour missed one meet and five practices in her sophomore season. Running helped her fill the void she lost by not being able to swim.
"Originally, I never used to run," Barbour said. "I used to swim 24/7, so I just never had time to run. When I couldn't get into the pool, I began to run more and more day-by-day. When I stopped swimming, it became an outlet for me."
After being cancer-free since 2012, Barbour is set to compete in the "4K for Cancer" – a cross-country relay-style event that spans more than 4,000 miles from June 14 to Aug. 1 – to raise money for the Ulman Cancer Fund for Young Kids. Runners will run around eight miles per day with a rest period built in every 3-5 days.
Barbour will be one of 28 college students running from San Francisco, California to Baltimore, Maryland over 49 days. At night, the runners will be sleeping at host sites, such as churches and gyms that donate space to the runners, Barbour said.
Cheryl was hesitant about the idea of Barbour running across the country.
"Running across the country was one thing, but in order to do this, Kelsey had to give up her summer job," Cheryl said. "As a college student, that money is important. Also, she had to raise $4,500 to even participate in the event. We didn't squash this for her, but we just made sure she knew the sacrifices she had to make."
Despite the finances, Barbour didn't think about the money she had to earn, or the money she was giving up in doing the run. Barbour called the run "a great opportunity" to continue helping people who have been affected by cancer because she experienced the pain that many others are going through.
Cheryl said her daughter originally didn't enjoy running before her diagnosis, but when she began, she noticed a change in Barbour's character.
"Oh no, my daughter was not a runner," Cheryl said, laughing. "When she started, I just saw the change in her. She originally went alone, then she found people to run with her and it was something that kept her spirits positive as she went through a tough situation."
Barbour found another outlet through running to help those dealing with cancer. In 2012, Barbour ran her first half marathon, the Buffalo half marathon, with her two sisters, Lynlee and Amanda. The money for the race went toward cancer research.
Barbour said her first half marathon was a memorable experience.
"I think most runners would tell you that running is hard," Barbour said. "There were moments where one of us wanted to quit, but when we made it to the finish line, that rush of giving back and feeling good just takes over you and you want to run another. Everything that happened that year, it was a nice end to it."
In 2014, Barbour completed the Rochester half marathon.
After her second race, her mother said she was surprised to see Barbour elect to run a full marathon.
"I was happy to see her do this because this was something she really wanted to do," Cheryl said. " I was happy to see her running marathons, but then she told me about the 4K for Cancer and I was a bit surprised that she wanted to do that."
The motivation for the 4K for Cancer – as well as the decision to give back to those in need – began when Barbour's life hit a standstill.
Barbour noticed a sizable lump on the base of her neck between her freshman and sophomore seasons. When she returned home to Albany, New York for the summer, she went to the doctor with her mother.
Neither Barbour, Cheryl nor the doctor thought the lump was anything serious.
"The doctors continued to mention cancer as a possibility," Barbour said. "But they would always call it a 'worse cast scenario.' They told us that enough to where my mom and me were concerned, but not for cancer."
The worst-case scenario became a reality.
"I just remember picking up the phone," Cheryl said. "The surgeon spoke to me very slowly and said 'Could I speak to the both of you at the same time?' and my initial thought was 'uh-oh.' We were just shocked, to say the least."
Instead of normal chemotherapy treatment, Barbour was administered a radioactive iodine pill. The thyroid cells would absorb the iodine cells, killing any of the remaining cancer cells in her body.
The pill left Barbour in her bedroom alone. The doctors suggested Barbour have minimal contact with family members. Her younger brother, Logan, couldn't even stay in the same house.
Cheryl said Barbour's moments alone helped her psyche.
"I remember worrying about her but something clicked for her in that time alone," Cheryl said. "Having that time to think was valuable for her. It got her mind cleared and she refocused. She changed her major, she had a focus for grad school and she came up with Hope Floats."
After missing just one meet and five practices, Barbour returned to the swim team and started a fundraiser called "Hope Floats." The fundraiser raised more than $10,000 for the American Cancer Society over two events in 2012 and 2013. Barbour and two of her friends on the swim team ran the events.
Barbour said the event was "just the beginning."
"I knew that if we got that event off the ground, it would be just the start," Barbour said. "I wanted to give back and once I saw how much that helped people, I wanted to continue helping people and helping those in need."
Barbour's determination to return to the pool touched her teammates – especially junior swimmer Paula Stoddard, who called Barbour "her big sister."
"I was only a freshman when Kelsey was a junior," Stoddard said. "She was a great role model. She took care of me like a big sister would. Always supporting me in and out of the pool. This year, I had to redshirt because of my knee and Kelsey was right there giving me support."
After participating in the 4K for Cancer, Barbour said she wants to continue to help those in need.
"I just want to continue to help others. I plan to serve in the medical community and even in a non-profit. I'm actively looking for an internship in the American Cancer Society and after I finish graduate school, I want to continue to give back to those in need."
Quentin Haynes is a sports editor and can be reached at quentin.haynes@ubspectrum.com
Comments