"UB students, faculty from Syria weigh in on conflict"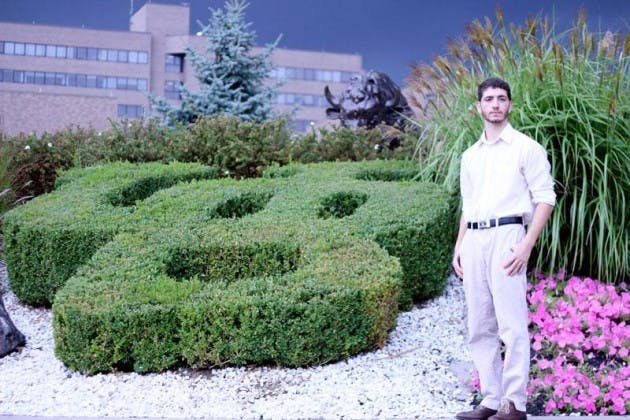 ---
On Tuesday, President Barack Obama addressed the nation about the conflict in Syria. Though he mentioned "encouraging signs" of a diplomatic solution, Obama stressed the importance of keeping pressure on the Syrian government.
As Congressional approval for the initial resolution seemed unlikely, the United States began working with Russian, French and United Nations (U.N.) officials on a diplomatic solution that would have Bashar al-Assad and his regime hand over or destroy their chemical weapons stockpile. Not all Syrian students, however, are happy with the seemingly peaceful resolution.
"This is the world letting [Assad] know he can do whatever he wants," said Lemma Al-Ghanem, a sophomore architecture major. "It's disgraceful ... we've just told an entire population that they don't matter at all."
Al-Ghanem, a student from Syria, is a staunch supporter of the proposed U.S. cruise missile strikes. She believes the United States is "flaking" on its responsibilities by meeting with Russia and the U.N. Allowing Assad to go unpunished, she feels, would be a failure to take action in preventing the future slaughter of innocent people.
Akram Shibly, a junior media studies major and son of Syrian immigrants, agreed with Al-Ghanem. He expressed his doubts over the French-backed resolution.
"I think it's an odd solution to the problem," Shibly said. "It raises some important questions about modern-day politics that people need to start asking."
Shibly was originally against the proposed intervention, saying the United States was acting only on its own interests. He said all nations should abandon chemical weapons, not only certain nations while others continue to possess them.
Russia has held on to nearly 76 percent of its chemical weapons stockpile, almost30,000 tons, since the dissolution of the Soviet Union, according to Itar-Tass, a Russian news agency. The Pentagon reported the United States currently has a stockpile of more than 3,000 tons of chemical weapons - including illegal mustard gas, napalm and nerve agents - in various facilities around the nation.
U.S. foreign policy experts expressed doubt Tuesday, to The Jerusalem Post, that Syria could effectively disarm its estimated 1,000-ton stockpile by the end of the week.
Shibly warned against the potential double standard. He believes that forcing some countries to give up their chemical weapons stockpile over others would cause a "dangerous" tip in the balance of world power.
"This further proves that this is about power and politics, not about the people," Shibly said.
He said Assad is doing whatever he can to appease the United States so he can continue to hold on to power and commit genocide unimpeded by a Western intervention. Shibly added that the diplomatic approach was a "step higher" than the proposed cruise missile strikes.
Al-Ghanem said, however, Assad's actions have made a diplomatic solution to the crisis no longer viable.
"There is one way this will end: [the Assad regime] either steps down and gets tried at a criminal court ... or he kills every single [Syrian]," she said. "End of story."
She thinks the new resolution will empower the Assad regime by giving it a diplomatic "victory" over the West.
Al-Ghanem believes people have lost sight in what is important. She believes protecting the Syrian people should be the chief concern.
"I could write a novel about how my family has been affected by the war," Al-Ghanem said.
Shells from government tanks hit her uncle's farm, destroying portions of it and nearly killing his family. She said her aunt came home one day to find the Shabiha - armed groups of pro-government vigilantes - had broken into her family's home and stolen everything.
Shibly also expressed concern for his family overseas. He said his mother's cousin was killed and his own cousin was caught in the crossfire. His family has the news on television at all hours of the day.
Akram Shibly's father, Dr. Othman Shibly, an associate professor in the UB Dental School's Department of Periodontics and Endodontics, believes if the United States does not punish Assad, the country would be sending the wrong message to other dictator regimes - that international norms can be violated with no consequences.
"We can give diplomacy a chance," Othman said to BBC reporters on Wednesday. "But it has been close to three years now, with Assad breaking his promise time after time ... Assad should be brought to justice."
His son agrees. Shibly said because Syria is handing over its chemical weapons, Assad would no longer be held accountable by the West for his actions.
Al-Ghanem believes that the lack of a U.S. intervention will motivate the rebels even more.
Ahmad AlSaadeh is a senior international business major and the president of the Organization of Arab Students (OAS) on campus. AlSaadeh opposed the previously proposed missile strikes and believes the United States is trying to evaluate all of its options. He is not certain the Assad regime would keep its word on handing over its chemical weapons.
OAS is planning a fundraiser for Syria later this semester. AlSaadeh said all the money collected will be donated to humanitarian groups working directly in the country. He also plans to work with Al-Ghanem to create an awareness booth in the Student Union to inform students about the conflict.
With the UB-based production company he co-founded, True Intent Productions, Shibly has already begun raising awareness. His short film, "Heal the World," juxtaposes the life of two children playing with building blocks. The film deals with the real-life tragedy - the boy playing is Syrian and he describes the aftermath of a rocket attack on his village.
The film has been selected as a finalist in Fordham's Law, Culture & Society film competition and will be screened in New York City in October.
Othman has already held two fundraisers and, with additional donations from the UB Dental School, has established two dental clinics for Syrian refugees.
"Those are people like us," Othman told The Buffalo News in November 2012."They should not be deprived of regular treatment like I and my children get. It's the world's responsibility to protect civilians."
This article has been updated to clearly reflect Akram Shibly's views on chemical weapons.
Email: news@ubspectrum.com
Comments