Buffalo sushi at the Super Bowl
Local restaurant selected to represent Buffalo at Super Bowl of Food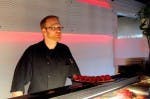 ---
It has all the ingredients of a legendary Buffalo staple: you take some fresh roast beef, surround it in a bed of rice, wrap it up in a chewy and flavorful beef carpaccio and top it off with caraway seeds, surrounded by a liberal amount of horseradish mayo.
It's your classic beef on weck sandwich with an Asian twist.
Buffalo isn't known for its sushi, but one local restaurant plans to change that perception by blending local favorites and introducing new ones with an Asian flair. After five years, neophyte seafood establishment Seabar Sushi and its popular Seabar beef on weck sushi roll are taking their talents to a national stage - representing Buffalo as a precursor to the Super Bowl as part of the Taste of the NFL.
Taste of the NFL is a not-for-profit organization that helps food banks and other hunger-relief efforts throughout the country. Since 1992, it has held the most successful event during the Super Bowl festivities, Party with a Purpose - an event that brings together different tastes from around the country to the host city of the big game. All 32 NFL cities are represented in this event. One restaurant from each city and a few honorary chefs from New Orleans are chosen to showcase the finest cuisine they have to offer.
For a steep price of $600, patrons will get to sample food and wine at the different stations and will also get to meet a NFL legend. The proceeds from this event will directly support the local food banks in Buffalo and feed thousands of people unable to afford a quality meal - something the NFL has been doing for 22 years.
ForSeabar owner Mike Andrzejewski,it's the opportunity of a lifetime and a chance to show the world a spin on a Western New York classic.
"I'm excited to do it, because you know that Buffalo isn't really exactly known as a fine-dining mecca," Andrzejewski said. "But we get an opportunity to show off what the better side of Buffalo really represents. We are excited to show people what we can do and express how cool Buffalo is."
Andrzejewski is a Buffalo lifer. He grew up in Lancaster and moved downtown within the last few years to be closer to the bevy of restaurants he owns, including Mike A's in the famous Lafayette Hotel and Cantina Loco, a local Mexican favorite.
The preparation will be intense. The culinary team of Andrzejewski and chef Daniel Kirby will prepare about 2,000 servings of the beef on weck roll along with a Hamachi Sashimi, another local favorite, for the event on Saturday evening.
The duo has had experience catering for events - albeit on a smaller scale - in New York City and other parts of the country over a five-year period.
As for attending the big game on Sunday? The guys are saying "No, thanks," due to the steep price tag.
"We had the opportunity to purchase tickets, but we passed on that," Andrzejewski said. "We'd rather go to dinner, hang out with the other chefs anyway."
Just your typical Super Bowl Sunday.
Email: arts@ubspectrum.com
Comments